armband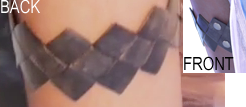 Materials


purple, brown, light brown acrylic paint(as shown above)
cardstock paper
Elmer's glue


01. First, get your supplies ready!
02. Take the measuring tape and measure around your arm. Mine came about 9 and 3/8th inches.



03. Pick up the cardstock paper and the pencil and eraser. Draw a rectangle shape about the size of 5/8cm x 1" 7/8cm, just like so.



Cut out the shape. Then place it elsewhere and trace over the shape.



Repeat the process until you have 15 pieces cut or so. Trace and cut more shapes if needed!




04. Pick up the tape and make small pieces of tape to connect the pieces together. Then I used the scissors to cut the pieces to even smaller ones. Click for fullview!



05. Tape two of the rectangle pieces together to create a "cross" like shape. Then turn it over, so the "cross" becomes an "x" instead.



06. Take another rectangle and tape it onto the piece. Repeat the process and make sure to overlap them in the necessary areas to create a crosshatch look!



07. Once you're finished taping the pieces into a crosshatch pattern, you may notice that the edges are sticking out. Take the glue and with the paint brush, paint the underside down.


Do this to all the pieces sticking out!

Let the glue dry out before painting over it!!

08. Once the glue is dry. Take the three paint colors and squeeze them together.


The light brown looks orange because of the flash, but it really is not D;
Mix the paint around and it should give you a dark brownish-purple color.

Take the paint brush(after washing off the glue or if you're using 2 different brushes then you're good) and start painting over the cardstock strap ;P



Once it's dry, apply it to the other side.

09. When the strap is completely dry. Close the strap together by gluing it down. For the studs, you can use anything really, but I used Zots and painted over them with white acrylic xD




10. Let that dry and you're done!!

comments
This tutorial was made using cheap materials orz. You can however substitute the cardstock for actual leather/pleather or whatever fabric you're using!
Any questions, comments, concerns? Just comment back at the old LJ entry where this used to be at: CLICK!